EVER TRUST MARINE COMPASS 102
฿0.00
Marine Compass 102 (Ever Trust)
Our MARINE COMPASSES are suitable for most pleasure boat application.
The various installation matched with unlimited heel freedom for the card of these compasses is suitable for usage under any condition.
Hermetically sealed and liquid-filled spherical compass capsules are ideal for smooth and fast damping action.
The expansion diaphragm of capsules is for bubble-free use under the temperature of -40°C to 60°C
(-40°F to 140°F).
All models are adopted dual ALNICO-5 magnets on card, and with built-in compensators and supplied with 12V lighting system for night illumination.
Wide Angle Operation System
This system is specially designed to function with stability under extreme vibration.
Precision is assured to withstand for constant pounding to be inherent in power boating.
Allows tilting up to about 30 degrees.
Suitable for high-speed runabout and cruiser.
Shock Absorber
Specially built pivot and jewel assure precise suspension and the longest life of the unit.
All models are equipped with shock absorbing system used in aircraft compass.
2 Kinds of Card


 Flat Card No. 970-C                       Conical Card No. 970-F
—Durable plastic housing and detachable sunshade hood, with built-in compensators and lighting system.
—Size: 185X170X170mm
—Weight:1,100g
Available Colors: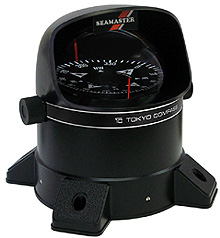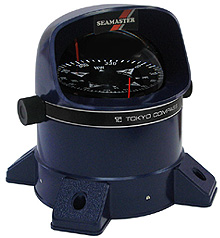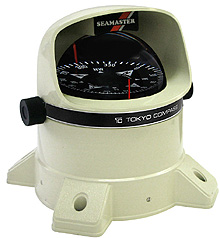 Black                                                       Metallic Blue                                                  Ivory
GUARANTEE THAI MALDIVES Co.,Ltd
20/101 Moo 2 Boat Lagoon Park Plaza A,
Thepkasattri Rd, T. Kohkaew,
A. Muang, Phuket 83200
Email : info@gtmphuket.com, Tel :+66(0)61-466-5595/ +66(0)64-174-6241