ENVIRONMENT ELECTRONIC LEVEL SWITCH E.E.L.S
฿0.00
Code: 31010
The Environmental electronic level switch is the latest in innovation, as it operates with an electronic sensor, instead of the air pressure or any moving parts. It has been designed to sense the water level with great precision and accuracy, thus offering you the best possible result. One of the most important advantages of the E.E.L.S is that it is environmentally friendly. Lalizas designed this switch to operate only when it senses water. If there are quantities of hydrocarbons, such as oil, it switches the bilge pump off, thus preventing any pollution. Mounted vertically to the hull, the E.E.L.S is connected inline with bilge pump(s) even of higher potency. Also its compact design allows a far greater freedom of movement. On the other hand, in inboard vessels the minimum space it occupies leaves more loading space and the hatch space intact. Other features of note are the insulated electrical contacts, casing from durable Nylon and ABS plastic, 100% impermeability to water.
Technical characteristics
The Electronic Level Switch can be used with any bilge pump up to 20A. The Electronic Level Switch has the following electrical characteristics:
Voltage: 12V DC
Connection to the main circuit: Inline
Maximum Amperage: 20A
How to connect the Electronic Level Switch
Connect a switch for the activation of the automatic operation of the bilge pump inline to the positive pole of the battery. You should also connect inline a fuse, according to the amperage of the bilge pump and up to 20A max (See manufacturer's instructions). The wires of the Electronic Level Switch which are connected to the poles of the battery are RED (+) and BLACK (-). The other pair of wires, BLACK (-) and BLUE (+) are connected to the negative and positive pole of the bilge pump respectively.
ATTENTION!
It is necessary that you follow the polarity when making the connections, otherwise you run the risk of producing a short circuit leading to damage your Electronic Level Switch. Please check the polarity before activating your new Float Switch.
WIRING
—Black: Negative (-)
—Red – Blue: Positive (+)
—Black – Red: Connection to the battery
—Black – Blue: Connection to the Bilge Pump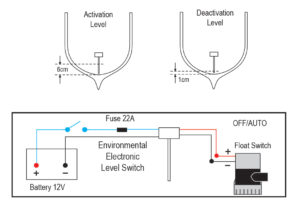 GUARANTEE THAI MALDIVES Co.,Ltd
20/101 Moo 2 Boat Lagoon Park Plaza A,
Thepkasattri Rd, T. Kohkaew,
A. Muang, Phuket 83200
Email : info@gtmphuket.com, Tel :+66(0)61-466-5595/ +66(0)64-174-6241